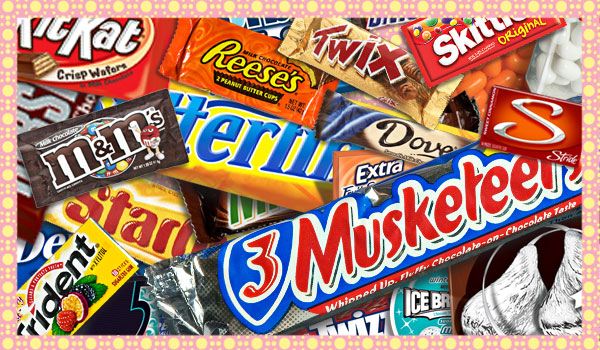 I know what most of you are thinking. Dont we have enough dessert pages on this wiki? This might has well be a dessert wiki xD. But Candy is food okay?! :) xD
Candy Lovers!
Edit
Madi OM NOM NOM NOM NOM NOM CANDY
Corey!! <3 <3 (I LOVE CANDY!! NOM NOM :D)
Taytertot XD (TaylorR5A&A) CANDY!?!?!??! WHERE?!??!?! O.O
KLA <3 <3 <3 <3 I LOVE CANDY MORE THAT COREY! XD
Eileen516
TOMMMMYYYYYYYMOOOONNNNSSSTTTEERRR (TOMMYTOM77) *EATS CANDY*
MEGAN! *Steals all the candy and runs.* >:)
ROOSSAYYYY????!!!!!!!!! :D
Ashlynn
Melody (YUM 8D)
Rocky *steals candy from Megan & eats it all*
Swiftie (OMMMGGG CANDY IS AWESOME 8D)
Kinds of Candy
Edit
Candy Corn
Candy Buttons
Chocolate
Sour Patches
Gushers
Fruit Roll-Ups
Fruit by da foot
Pop Rocks
Jolly Rancher
Lollipops
Tootsie Rolls
Skittles
Starbursts
Smarties
Reeses
Gummy Bears xD
Jellybeans
Gummy Worms
Gum
Milky Way
Snickers
Twix
Butterfinger
Kit Kat
M&M's
Crunch
DumDums
Hershey's
3 Musketeer
Babe Ruth
Hershey's Creamy Caramel
Godiva Chocolate
M&M'S
Skittles
LaffyTaffy
Gushers
Bubble Tape
Airheads
Gobstoppers
Dots
Twinkies
Gumdrops
Fun Dip
Almond Joy
Hershey Kisses
Jawbreakers
Jelly Belly's
Jelly Beans
Jolly Ranchers
Lifesavers
Lemonhead
Milk Duds
Nerds
Mike and Ike
Peeps
Orange Slices
Pez
Pop Rocks
Pocky
Pixie Sticks
Raisinets
Razzles
Red Vines
Resse Pieces
Ring Pop
Rolo
Smarties
Sno-Caps
Sugar Daddies
Sugar Babies
Swedish Fish
Swee Tarts
Twizzlers
Tootsie Pop
Toostie roll
Warheads
Wax bottle
York peppermint pattie
Whoppers
Rock Candy
Candy Gallery <3
Edit
Feel Free To Add Pics Of Candy Till U Get A Cavity :D
Community content is available under
CC-BY-SA
unless otherwise noted.