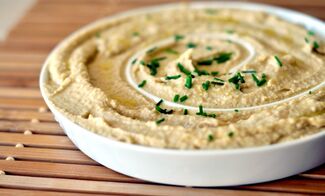 ¿cuál es el hummus?


The hummus árabe Es Una de pasta de garbanzos con zumo de limón, Llamada crema de pasta de tahini (semillas de sésamo) y aceite de oliva, la del que variante local de Also Florerias Tener Otros Ingredientes Como el ajo, el pimentón (generalmente Vertido de SERVIR) , etc. Es muy ONU plato muy populares en Todo el Oriente Medio, incluido Israel, Líbano, Palestina, Turquía, Grecia, Siria, Armenia y Chipre, de aunque el hummus se consume en Grecia es Bastante Diferente de La que se ENCUENTRA En El Mundo árabe y Israel.1 el PARECE hummus Operado Ser desde el Antiguo Egipto y su época muy Preparación Diferente del real, Que se Sirve en Pequeñas Porciones Durante Un pedazo de pan ☃☃ Que ↵Hummues Época Alimento ONU Tiene México ONU Tiene México.ONU Tiene México.
Etymologya
Edit
In Arabic, hummus simply means "chickpea". The dish described as a rule is actually called in its fullest form as Hummus bi tahini, which in Arabic is represented as حمص بطحينة (hummus bi tahini) ie chickpeas and tahinis decir, los garbanzos y tahini.
Preparación
Edit
The basic recipe is a mixture of cooked chickpeas with tahini, garlic and lemon juice in varying proportions, although a regular basis is: 500 g of chickpeas, one or two tablespoons of tahina, two or three tablespoons of olive oil, a clove of garlic and the juice of half a lemon. This is done with certain consistency puree, salt and spices to which are added as cumin, coriander or caraway if desired. At serving time (cold or warm), paprika is added. Sometimes, previously cooked in their cooking water to the skin, which is removed discards chickpeas rub. The hummus is then thinner.
The fine texture of this puree makes chefs around the world offering different variants depending on the customs and simplicity. It is a preparation expanded usually served on a plate and cold, accompanied by lots of pita bread that is used as an element for dipping, or fresh vegetables. Some newer versions use pita bread instead of tortillas chip. The crudivegetariana version simply replaced by sprouted chickpeas cooked chickpeas. Often serve this dish as a breakfast. Other versions add other ingredients such as avocado or beet, to give a color and a different taste. It is a dish widely used in vegetarian, vegan and crudivegetarianas kitchens.ato muy utilizado en vegetarianos, veganos y crudivegetarianas cocinas..ato muy utilizado en Vegetarianos, veganos y crudivegetarianas cocinas.
Community content is available under
CC-BY-SA
unless otherwise noted.