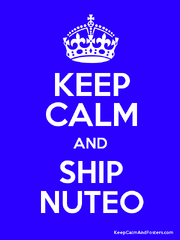 Nuteo is the pairing between Nutter and Oreos.
Doritos - NO NUTTER DONT LOVE THEM I LOVE YOU MORE
Nutter - I LOVE YOU MORE TOO DORITOS
Oreos - NUTTER :O
Nutter - Imma leave now :|
Rossay- :OOOOOOOOOO OREOS ;( *Steals all the Oreos and runs to Canada*
KLA- Nutter's a player. :P
Corey- O_O XD
Nuteo moments
Edit
Nutter bought Oreos from the store.
Oreos was happy Nutter bought her.
Oreos fell in love with Nutter.
Nutter fell in love with Oreos.
Nutter kissed Oreos.
Nutter ate Oreos.
Nuteo Shippers
Edit
Nutter (I LOVE YOU SO MUCH :'D)
Oreos (I LOVE YOU MORE :'D)
Corey XD
KLA
Marley B)
Rocky (FOREVER!)
Megan (The most inspiring pairing between cookies and a person. :'D)
Perry
Community content is available under
CC-BY-SA
unless otherwise noted.